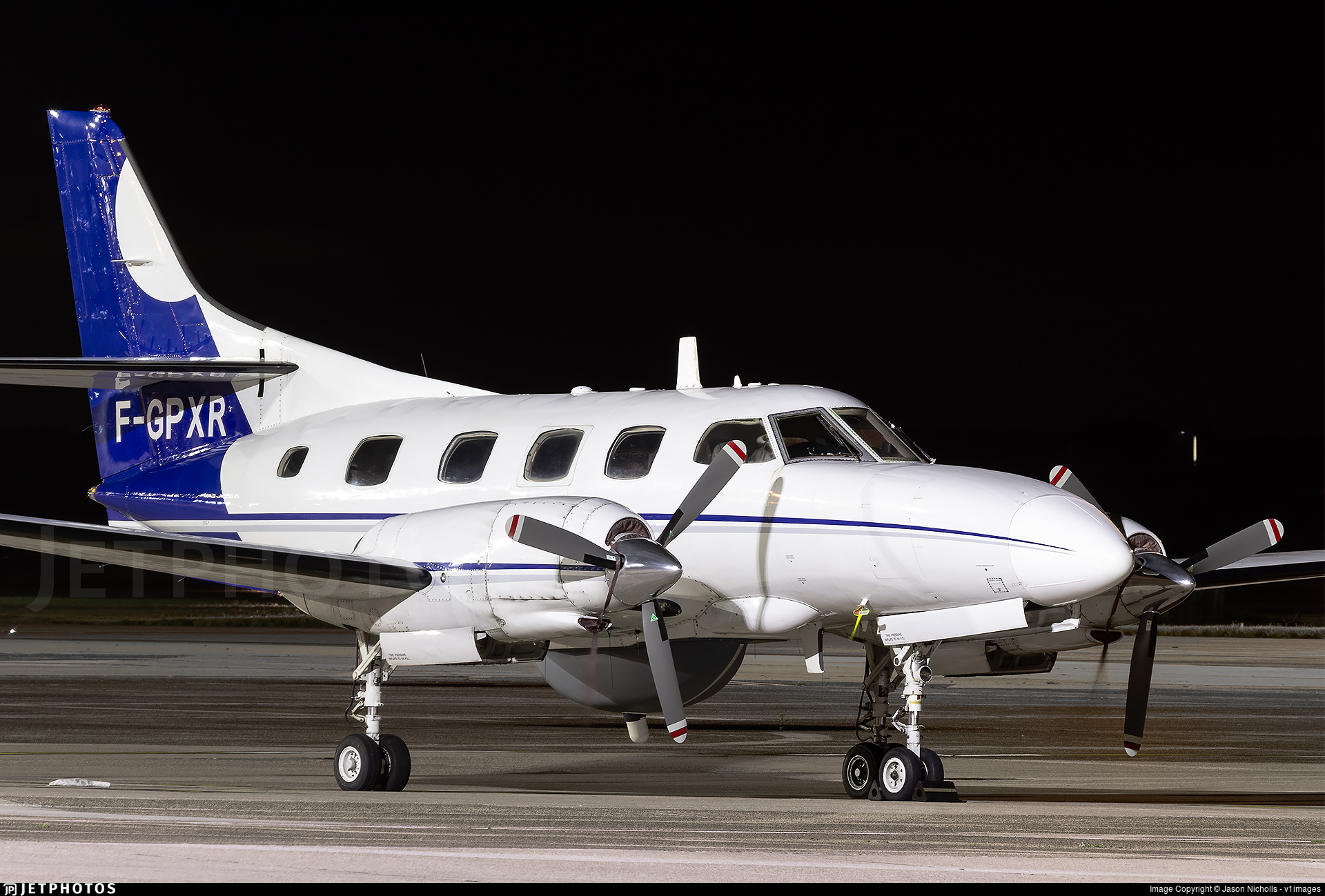 Swearingen Fairchild SA-226AT Merlin
The Merlin is a pressurized, twin turboprop aircraft. Initially designed for use as a business aircraft, the Merlin is fast, very fast. Capable of cruise speeds upwards of 280kts at up to 28000 ft (8500 m), it's the ideal candidate for capturing imagery on huge areas within short timeframes.
F-GPXR
Completing its first flight in 1976, F-GPXR spent its first seventeen years flying across North America for passenger transport, followed by ten years in the Belgian Air Force, before beginning its career in aerial survey in 2003. It entered the PixAir Survey fleet in 2017 and has since flown some 1500 hours.
General characteristics
Crew: 1
Capacity: up to 9 passengers
Length: 12.85 m
Wingspan: 14.10 m
Height: 5.13 m
Wing area: 25.78 m²
Aspect ratio: 7.71:1
Airfoil: NACA 65(2)-215 at root, 64(2)-415 at tip
Empty weight: 8028 lb (3641 kg)
Max takeoff weight: 12500 lb (5670 kg)
Fuel capacity: 4400 lb (2775 L)
Powerplant: 2 × Garrett AiResearch TPE-331-10 turboprops, 900 shp (670 kW) each
Propellers: 3-bladed Dowty Type R.321, 8 ft 10 in (2.69 m) diameter
Performance
Standard cruise speed: 270 kts (500 km/h) at 23000 ft (7000 m)
Maximum cruise speed: 280 kts (520 km/h) at 20000 ft (6000 m)
Stall speed: 89 kts (165 km/h) (flaps down)
Maximum speed: 300 kts (556 km/h)
Range: 1938 nmi (3589 km) at 26000 ft (7900 m)
Autonomy: 10 hours (without fuel reserves)
Service ceiling: 28000 ft (8,500 m)
Rate of climb: 2650 ft/min (13.5 m/s) at sea level